Best Selling Milling Cutters for Stainless Steels & Exotics
When machining Stainless Steels and Exotic materials, the key is to 'get in and get out'. If you hang about too much you will risk work hardening your material, leading to premature tool failure. Modern Stainless and HRSA cutters feature special geometries such as corner edge preparation, multiple and variable helix with un-even flute spacings. Combined, these features lead to the best tool life and unbeatable performance.
I would also recommend improving your tool holding to compliment these high performing cutters. By this I mean moving away from standard Weldon and ER collet holders and progressing up to a high-performance hydraulic holder. This way you will get the most out of your tooling, see improvements in surface finish and slash your cycle times.
When selecting the best cutter for your material, we also have to consider your machine and whether it has enough grunt to push these tools. We have tooling for all machine types - whether it's a manual or a very light weight CNC, right up to a powerful machining centre.
---
V7 Plus
Our number 1 all-rounder is the V7 Plus. If you are machining Stainless and Exotics this will give you the best all round performance with a large range of geometries and styles.
The V7 Plus has an advanced Y1200 coating which will deal with temperatures up to 1200°C with all singing, all dancing features. The V7 Plus has a multiple helix, variable helix and un-even flute spacings - all these combined give unbeatable performance and ultimate tool life.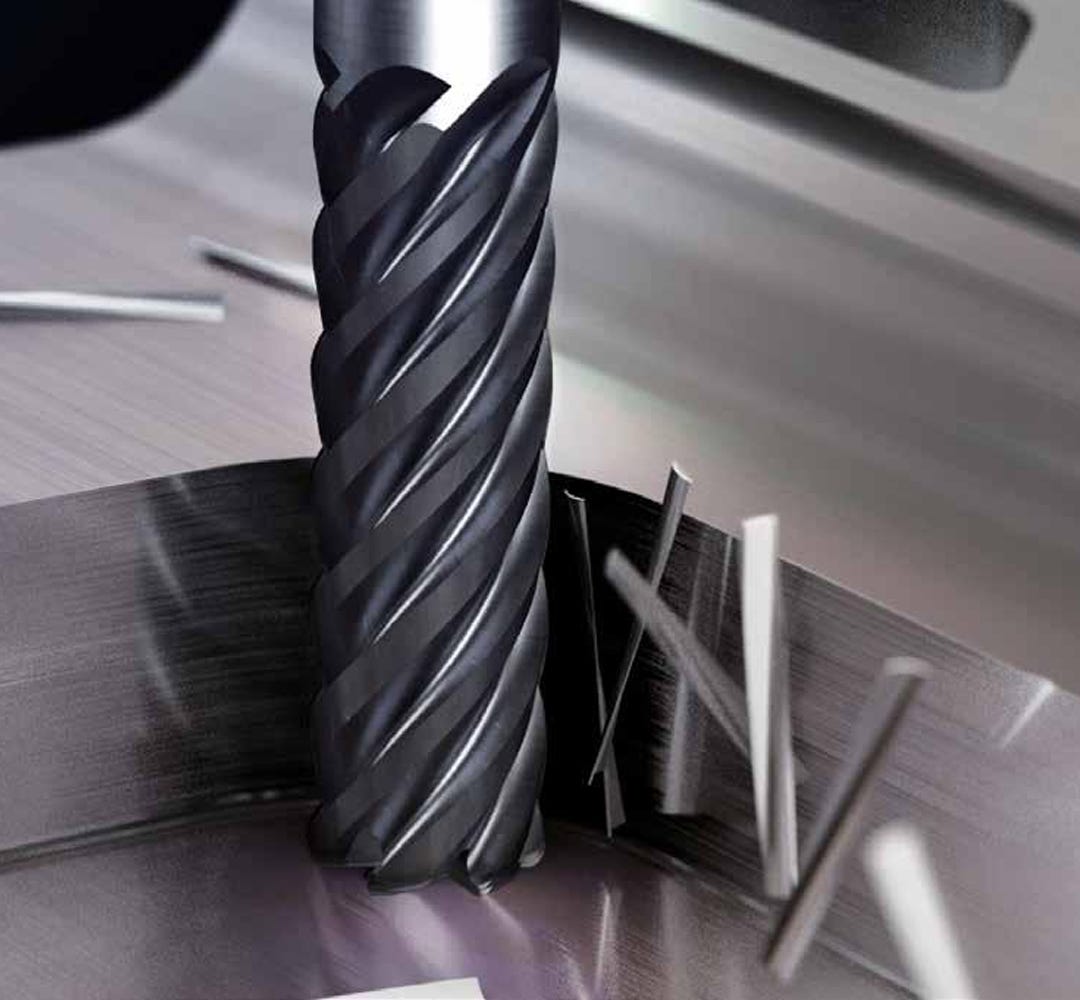 A multiple helix allows you to take larger depths of cut with higher feed rates.
The variable helix helps to evacuate the swarf in deep slotting and end milling operations leading to chatter free machining.
Uneven flute spacing breaks the harmonics in aggressive milling operations.
This range also features a trochoidal milling section which is becoming more popular with intelligent programming software. We have had fantastic feedback on this range coupled with a WTE HPH chuck. This range is my go-to if you are machining 303, 304, 316, Inconel, Duplex, Monel, Waspalloy and Titanium.
Features
Uneven flute spacing
Multiple & variable helix
Wide range of geometries including 4,5 and 6 flutes.
Special Y1200 coating
High performance corner geometries including chamfer prep or various sizes of corner radius
Benefits
High heat resistance of Y1200 coating ensures exceptional tool life in stainless steel, titanium and exotics.
Multiple helix geometries enable higher feed rates and larger cut depths.
Variable helix & unequal flute spacing reduces vibration
Excellent performance in roughing or finishing.
Extreme tool life.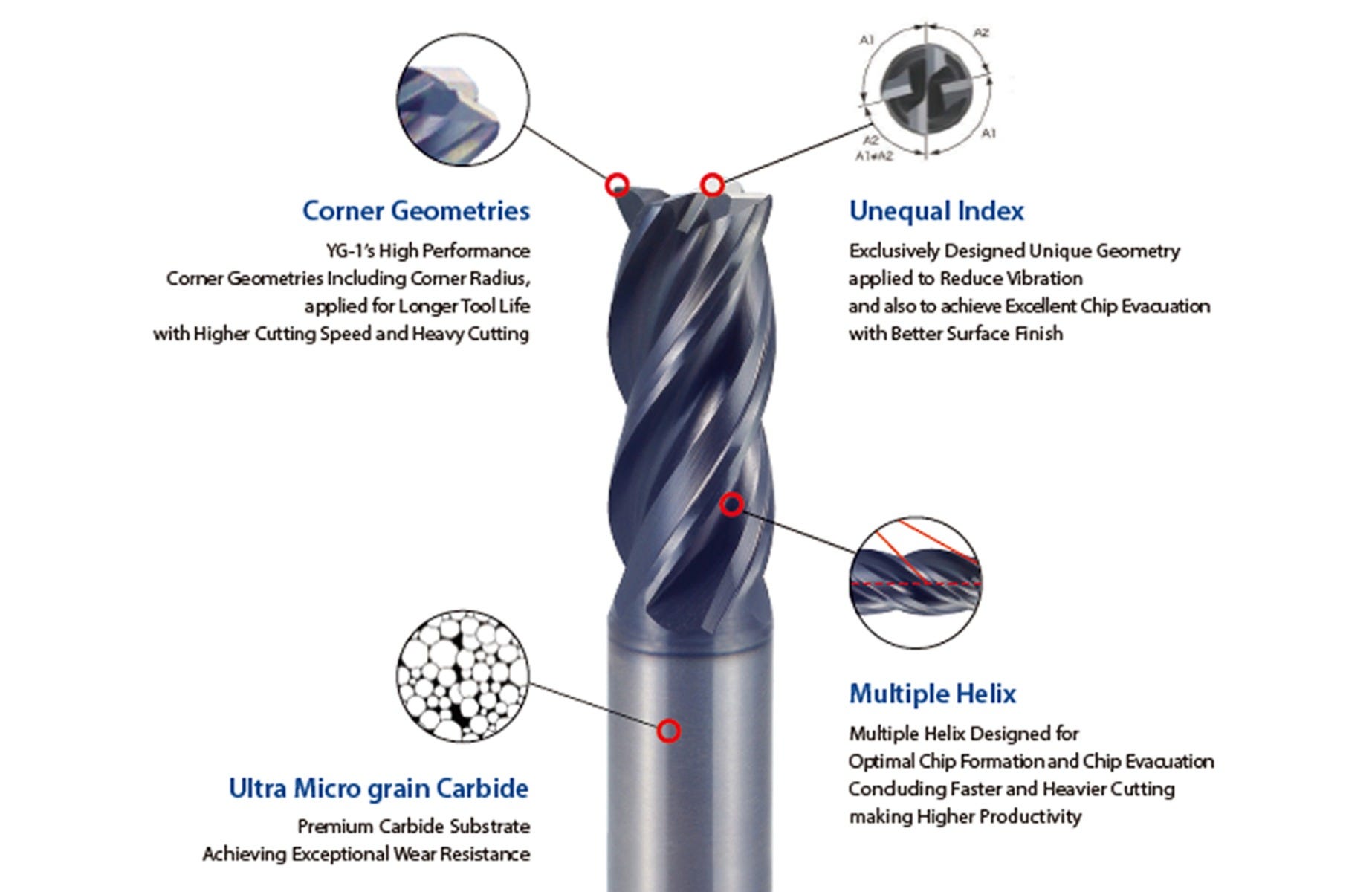 ---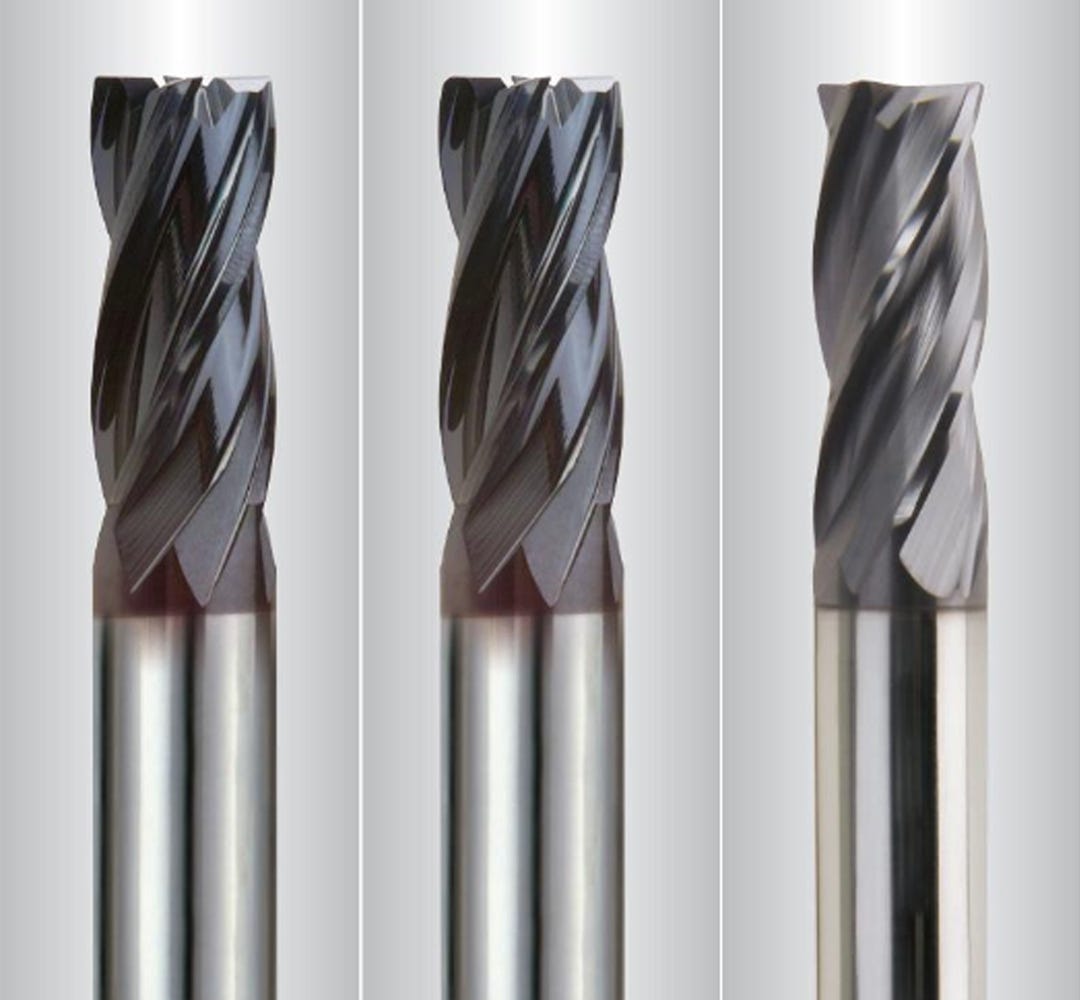 V7 Inox
The V7 Inox is a dedicated Stainless Steel range that has been a favourite of our customers for a number of years. It has a special Inox geometry and features a variable helix to help with swarf evacuation in deep slotting and aggressive milling operations.
If you are just machining Stainless Steel then this is a great option for you. The special TiALN coating helps offer excellent wear and heat resistance when machining tricky materials like 303, 304 and 316 stainless.
We offer a 4 flute option for slotting and general end milling applications and a 5 flute endmill for high feed profiling and fine finishing applications.
Features
Micrograin solid carbide substrate.
Special Inox geometry.
TiAlN Coating.
Variable Helix.
Chamfer or corner radius edge preparation.
Benefits
High metal removal.
Chatter free machining.
Large depths of cut and high feed rates.
Excellent tool life.
Rough and finish with one tool.
---
Titanox Power
The Titanox Power is the newest edition to the Stainless and Exotic range. The Titanox Power has a unique Double Core geometry: a newly developed feature which will take your slotting and end milling operations to the next level.
The Double Core adds stability, aids chip flow and prevents flutes clogging when machining sticky materials such as Stainless Steel and Titanium - you get best of both worlds with deep flutes for slotting and a thicker upper core for stable end milling operations.
The Titanox cutter also hosts a 5 flute endmill for finishing and trochoidal applications. I have had nothing but good feedback on this range and I am sure it will climb the ladder on our best sellers list over the next 12 months.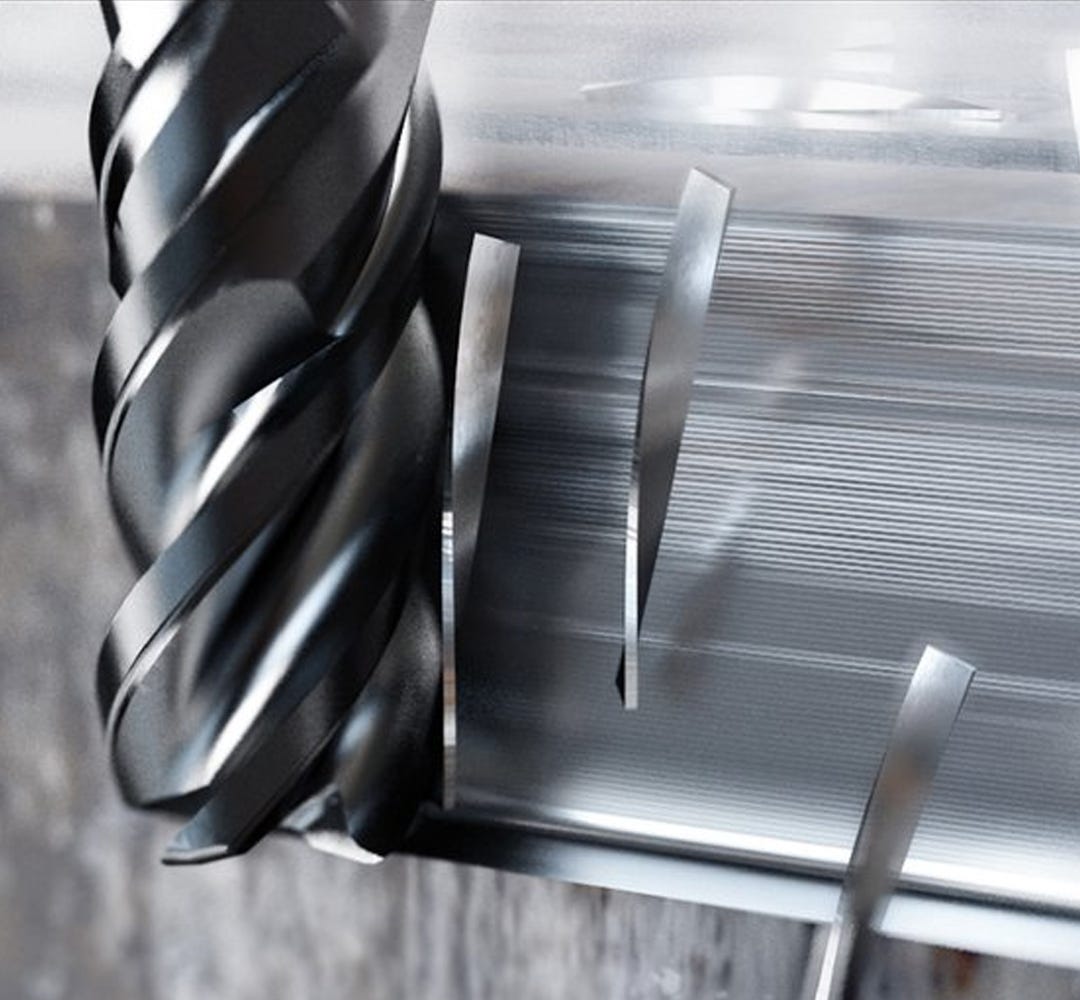 Features
Double core geometries for slotting/profiling
5 flute geometries for profiling
Micrograin carbide
Special high heat resistant Y1200 coating
Multiple helix
Benefits
Special double core geometry prevents flute clogging in titanium and stainless-steel slotting operations.
High heat resistance of Y1200 coating ensures exceptional tool life in stainless steel, titanium and HRSA machining.
Multiple helix geometries offer higher feed rates and larger cut depths.
Excellent performance in roughing or finishing applications.
Extreme tool life.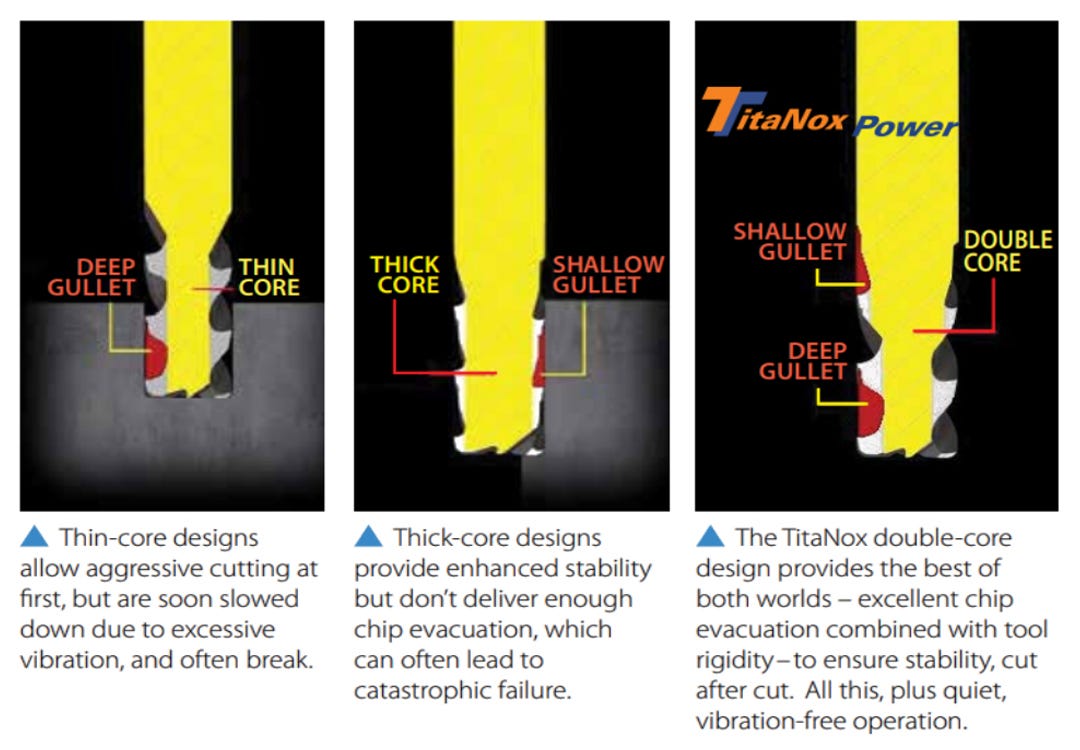 ---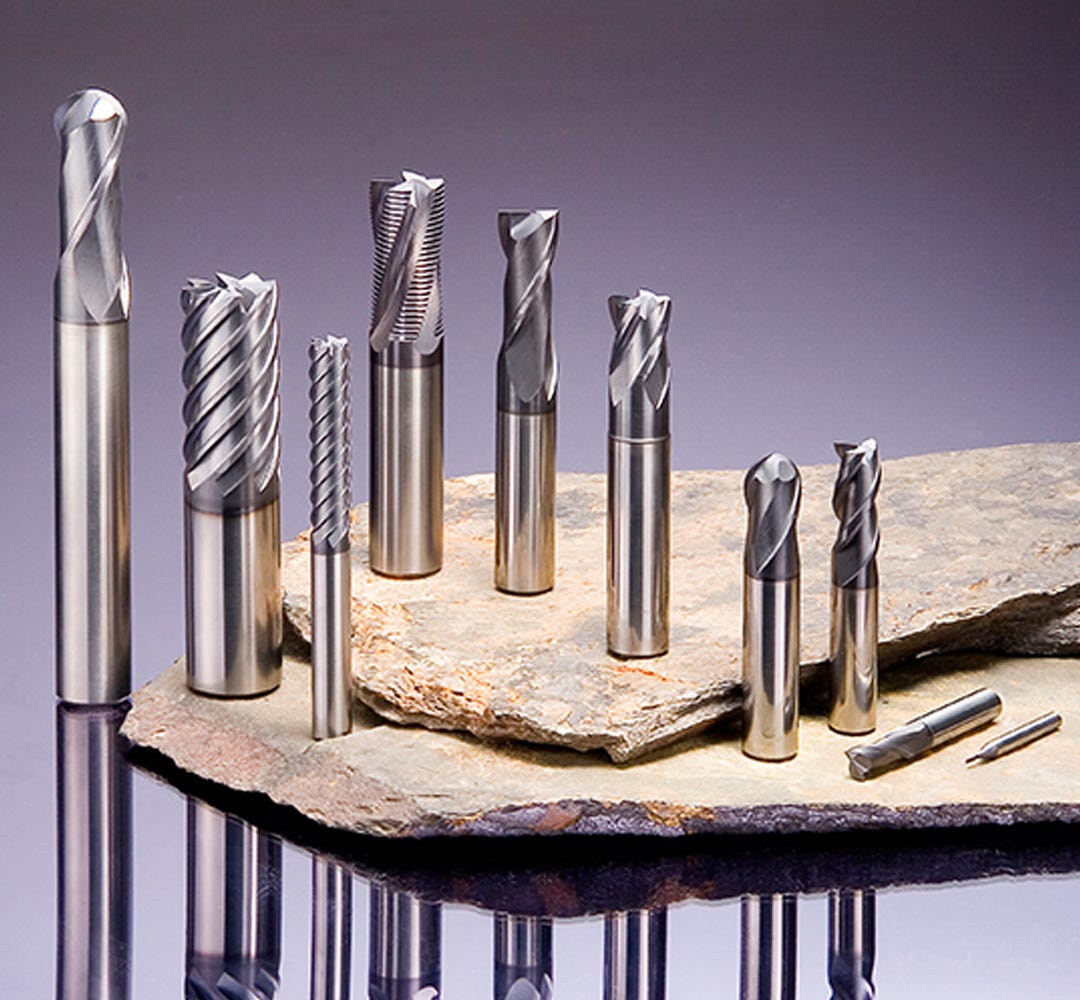 Jet Power
Jet Power is our go-to range when you have a lightweight machine or have power limitations. This range is specific for Stainless and Exotics and has everything from a 2 flute slot drill up to a ripper cutter. I personally use this option when the V7 range or Titanox is overkill, but still need a specific stainless geometry to get the job done.
It's made from an ultrafine micrograin carbide substrate which is super wear resistant. The Jet Power range also features a powder metal 4 and 6 flute range which works great when you have vibration or need the best performance on a manual machine.
The beauty of this range is that it creates very low cutting forces.
Features
Ultrafine micrograin carbide substrate
TiALN coated
Inox geometry flute design
High speed machining (HSC)
High precision
Premium HSS-PM 4 & 6 flute option
Benefits
Low cutting resistance
Ideal for lower power machining tools
Excellent surface finish
Excellent chip control
Gash land geometry (removal of sharp corner) prevents tools from chipping on initial contact with the workpiece
---
To summarize, if you are wanting the best all-rounder that will be excellent on your Stainless and Exotic materials, then the V7 Plus range is the one to go for. The special geometries and Y1200 coating are what make this range so special. The V7 Inox is popular amongst our customers when machining 303, 304 and 316 Stainless steels. The Titanox Power is the newest addition to our range and is the highest performing on Titanium, but also performs exceptionally well on Stainless Steels. Lastly the Jet Power range is a get out of jail card when either your machine has power limitations, you are on an older machine or are suffering with vibration. Make sure you couple any of these cutters with a hydraulic tool holder to really get the best out of your milling cutter!
If you have any questions or wondering which option would suit you, your material or machine then please give our technical team a call on 01924 869615