How to select the best Turning Insert & Grade for your job
When choosing a turning insert, finding the best insert for the job is just half the battle. The rest of it is selecting the best grade and chip breaker!
Below we outline how to approach selecting the best insert shape and grade for your specific jobs.
What is the best insert geometry & shape for roughing or finishing?
The first question you must ask is are you roughing, finishing or just doing some general turning? Negative inserts are strongest and the best option for roughing and general turning applications, as these will allow deeper depths of cut and higher feed rates due to strong insert shapes and thickness.
Top tip - Lever Lock or double clamp style tool holders give higher clamping strength and stability compared to screw clamp holders.
If you are finishing, positive inserts are always the best option as these create less cutting forces and can therefore get away with lower depths of cut, eliminating vibration.
CNMG (rhomboid 80 degree), DNMG (diamond 55 degree) and WNMG (trigon 80 degree) are the most popular roughing inserts. For heavier roughing operations, SNMGs are an excellent choice with a 45-degree approach angle allowing for larger depths of cut and reduced cutting loads.
CCMT (rhomboid 80 degree), DCMT (diamond 55 degree), VCMT or VBMT (diamond 35 degree) are the most popular finishing inserts.
For roughing applications, you would usually opt for a 0.8mm or 1.2mm radius depending on your machine's horsepower and the depth of cut you plan on taking.
For finishing operations, 0.4mm or 0.2mm rad would be the best option. This allows you to take the smallest depth of cut without causing vibration.

What is the best insert geometry & shape for roughing or finishing?
Selecting the correct chip breaker to suit the application is more important than you may think. A chipbreaker can make a huge difference to cutting load, chip control, vibration and even prevent work hardening in materials like Stainless Steel or Inconel.
If you are roughing, it is important to go with a roughing chip breaker (such as Korloy's RM, HR, B25, GS & VP4 chipbreakers) to deal with the chip load and the depth of cut.
For finishing, Korloy's AK, VF, MP & VP1 are popular chip breakers.
All chip breakers have a minimum depth required to get the chip breaker working. However, instead of struggling to figure out the right chip breaker for your job, please ask our Technical Team to advise.
They can help you work out the best chipbreaker for your material and applications, whilst also recommending the minimum and maximum depth of cut you should take.
Top Tip for Finishing: Use a finishing chip breaker with a small enough radius to get the chip breaker working. This is a common mistake engineers make: trying to finish with an 0.8mm rad with a medium chip breaker taking a 0.1mm cut. This is just going to rub on the work piece and cause poor surface finish. Furthermore, on stainless steel you will just put heat into the job and make it unmachinable.

What is the best insert geometry & shape for roughing or finishing?
I would always express to my new recruits that there isn't really any bad turning grades, but instead turning grades wrongly applied. You can have the best insert geometry and chipbreaker, but if the grade of carbide doesn't suit the material you're cutting, you'll just be wasting your time.
Once you have selected the material-specific grade of carbide, we then need to determine whether you are roughing, medium or finish turning.
The below guide should give you a good grounding in which grade suits which material / application.
A roughing grade is very tough and will run at slower surface speed but withstands intermittent cuts well. However, your roughing may be very different to someone else's roughing. For example, a turner on a VTL turning large stainless steel castings will be taking 5mm+ depth of cut, whereas a turner on a smaller lathe will be roughing with much smaller depths of cut.
In these cases, it may be useful to talk to one of our engineers and discuss your requirements using information like:
Diameter of workpiece.
Material.
Shape (e.g. rough, hexagon).
Machine capability.
From this, they can make a quick assessment of the most suitable grade of carbide for your job.
A finishing grade will be the hardest grade run at higher surface speed. This will not work well under vibration or heavy intermittent cuts.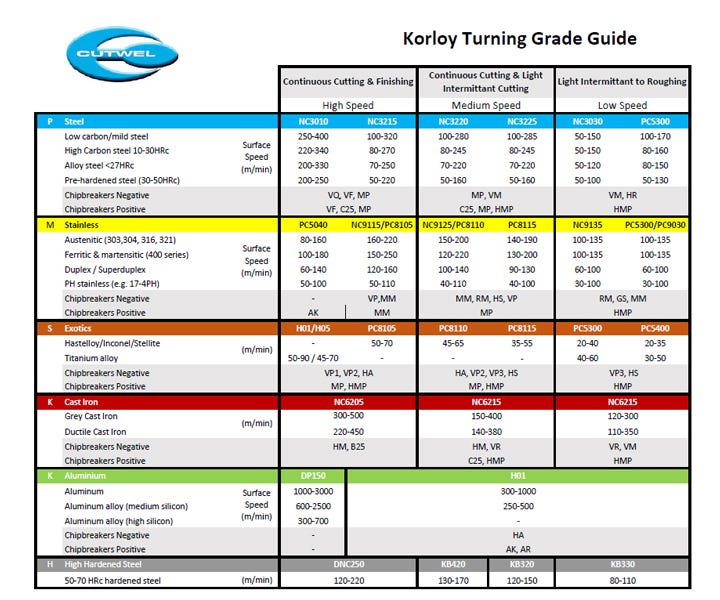 What do all the numbers & letters mean in turning grades?
Whilst they may look like random numbers, there is a logic behind the coding in turning grades.
A) Grades beginning with N (e.g. NC3225) are CVD coated. These grades cope with higher cutting speeds than PVD grades and can withstand longer contact periods with the workpiece. They are most suited to medium to large diameter workpieces.
B) Grades beginning with P (e.g. PC8115) are PVD coated. These grades work at lower cutting speeds than CVD grades and are more suited to shorter contact periods with the workpiece. They are most suited for small to medium diameter workpieces and also make excellent multipurpose grades.
C) The next part is the material application. E.g. NC3225 is for steel as the first number is 3.
D) The final part represents the toughness according to the ISO scale. NC3225 ends with 25, as it is for steel it has a toughness of P25.

Which number represents each material (C on above diagram)?
3 = Steel
9 =Stainless
8 =Exotics
6 = Cast iron
5 = General
H = Ali/Titanium
Give our technical team a call today to discuss your application so we can select the best grade to you!
Call us today on 01924 869615!