Top Tips for Milling & Drilling High Hardened Steels
For many precision engineers, machining hard materials such as tool steel, D2 or H13 hardened steel seems like a difficult challenge. However, by picking the correct work holding and tool holding alongside a high performing, purpose-made cutting tool, it can be made to look easy.
What Substrate Should Be Used For Machining For Hardened Steels?
When milling Hardened Steels HRc 50-70, it is not possible to use a standard Micrograin Carbide substrate. Not only is the workpiece very hard, but to reduce heat fluctuations on the cutting tool, dry machining is typically used. For this, tools are required that contain superior grades of carbide like Ultrafine Micrograin Carbide (such as YG-1 X-Power) or Nanograin Carbide (such as YG-1 X5070).
These carbide grades are much denser and therefore harder wearing with extremely high heat resistance, making them perfect for machining hardened steels. In comparison, a tough/general grade of carbide or HSS will wear fast due to the extreme heat generated.
What Sort of Coating is Required For Hardened Steels?
The coating of a tool can have a dramatic effect on its performance. A standard TiAlN or TiCN coating may only have heat resistance up to 800°C, which will wear down quickly when machining Hardened Steels.
YG-1 has developed a special Y1200 blue coating found on X5070 milling cutters specifically for this problem. This coating has a very high heat resistance of 1200°C! Combining this coating with nanograin carbide means our X5070 cutters can machine high hardened steels up to 70 HRc at ultra-high speeds and feeds with incredible tool life!
For setups involving older machine tools, machines with lower spindle speeds or suffering from spindle wear or vibration, the X5070 could be too hard and tool life can be unreliable. In these circumstances, an Ultrafine Micrograin Carbide tool would be more suitable (such as YG-1's X-Power cutter). It is more forgiving and can be run at slower cutting speeds due to the toughness of the carbide substrate.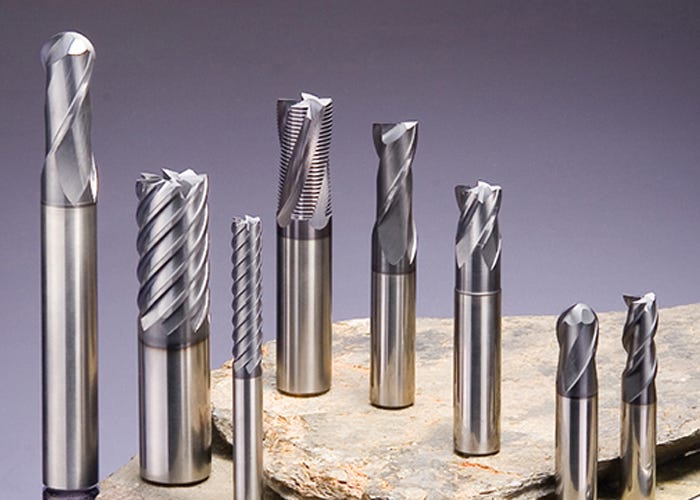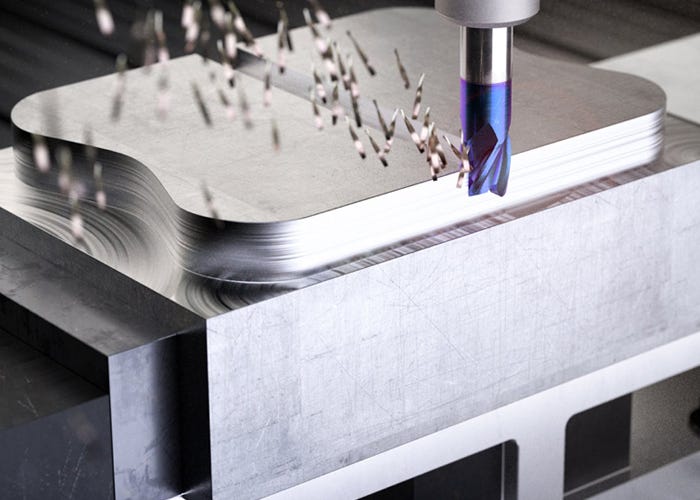 Should You Machine Wet or Dry When Milling Hardened Steel?
When milling or turning hardened steel, tool life will be higher and more consistent when cutting dry (i.e. without coolant). To most engineers this is counter intuitive as in college you are told the more lubrication the better. However, hardened steel tools, such as our X5070 cutters, have coatings that are capable of withstanding temperatures far higher than those generated when cutting dry.
By applying coolant to a tool, it has the effect of creating micro fractures in the coating which breaks it down quicker and causes faster wearing. It has a similar effect to pouring cold water onto a hot glass; it can cause the glass to fracture. With dry cutting, it is common to achieve at least 40% longer tool life.
Can You Use Indexable Milling Cutters for Machining High Hardened Steel?
Most standard indexable milling grades can machine materials up to 45 HRc without any problems. Once you begin to machine materials over 50 HRc most indexable milling inserts will fail because they are not hard enough and have the wrong cutting-edge geometry.
For example, a standard 90 degree indexable milling cutter using an APMT/APKT style insert is useless for milling high hardened steel – the cutting edge is too weak, and they are not suitable for milling with high feed rates and small cut depths.
The ideal indexable tool for hardened steel is a high feed milling system such as the Korloy HRM Double or HFM High Feed Milling system. These systems take a small depth of cut (0.3-1.6mm) but run at aggressive feed rates ideal for milling hardened steel (>1.2mm per rev).
The ideal grades for hardened steel are PC2005, PC2010 or PC2015 with a plain insert (no chipbreaker) which can machine up to HRc65.
This means tools up to 200mm diameter can be used for milling hardened steels!
What Sort of Cutting Edge Geometry is Required For Hardened Steels?
Tools for hardened materials require special cutting-edge geometries to strengthen it. Typically, tools suitable for hardened steels have opposite geometries to the ones for stainless steel.
Hardened steel tools typically have a negative land, shallow chip pockets and thick core. This type of geometry is extremely strong and designed for high speed machining with small depths of cut.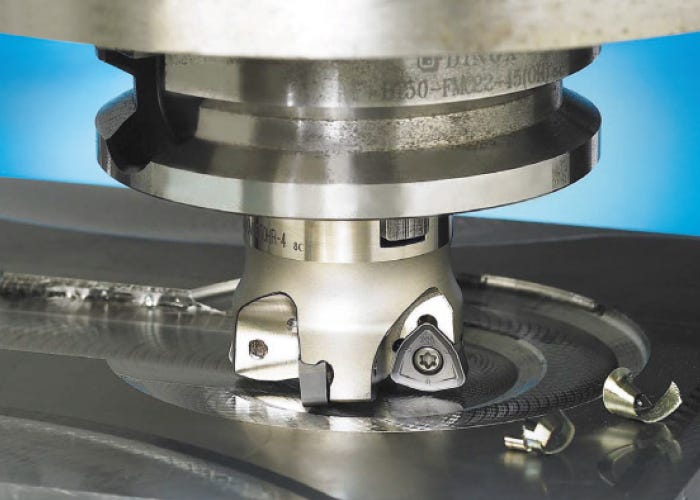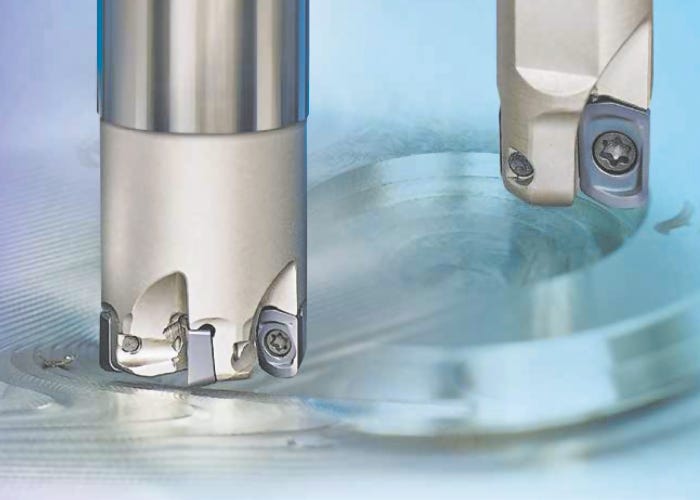 What Sort of Tool Holding Is Best For Milling Hardened Steel?
Once the correct tool is chosen, suitable tool holding is the next key. If you are going to the trouble of investing in high performing milling tools, using a general-purpose tool holder could diminish any benefit this tool offers. Side lock arbors and ER collets are good for general milling but should be avoided when milling hardened steels.
The 2 problems which ER chucks and side lock arbors are:
Balance – Whilst they may be balanced to 15,000RPM or greater in the factory, once assembled with a collet and tool this will not be the case.
Run Out – At 3xD tool length, the run out may be to 10 microns. However, this will increase to as much as 50 microns at 8xD length. For a 5mm cutter, for example, this is a huge amount and will cause vibrations to the tool and workpiece. When machining a hard material with a hard tool, vibrations will cause premature wear and poor reliability.
Cutwel has a few different tool holding options for use with high performance cutting tools for Hardened Steels:
Shrink Fit Chucks
Shrink fit chucks are excellent for hardened steel machining with perfect concentricity and a precise 3 microns run out making is easy to maintain balance at high cutting speeds.
Long length tools perform particularly well in shrink fit chucks and you have the added benefit of a slim neck and narrow wall thickness, making it ideal for operations involving pocket machining where a slim holder is required.
Hydraulic Chucks
This is one of my favourites! Not only do you get 3 microns run out and balancing up to 25,000RPM but hydraulic chucks get the added benefit of tool damping. In long length tools you get a major advantage over shrink chucks with vastly lowered vibration.
You can also change tools on the machine quickly and the clamping force increases as the tool gets hotter! These are also available in shrink chuck style geometries with the YG long neck design (with 6mm wall thickness) or the WTE HPH slim chuck (with 3mm wall thickness).
GSK / HP3 Slim Chucks
The most versatile and cost-effective tool holder is the Korloy GSK collet chuck or Cutwel HP3 slim chuck. With 5 microns run out, a slimmer nut design and higher clamping force, they are vastly superior to ER collets.
GSK chucks are designed with a 8 degree collet taper angle (vs 16 degree for ER collets). This eliminates deflection and vibration commonly associated with ER collet chucks.
Personally, I used a mix of Korloy GSK chucks with YG-1 hydraulic chucks for bigger diameter tools.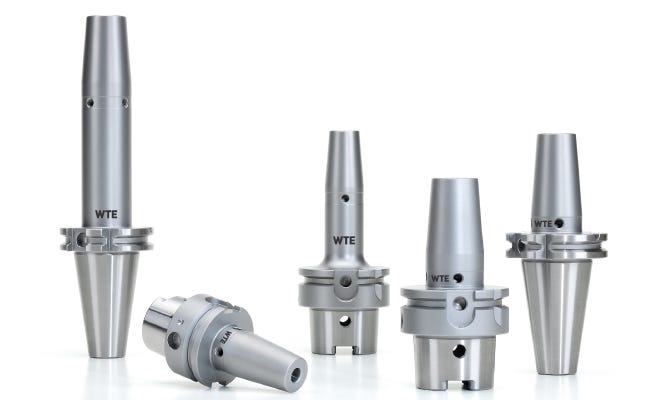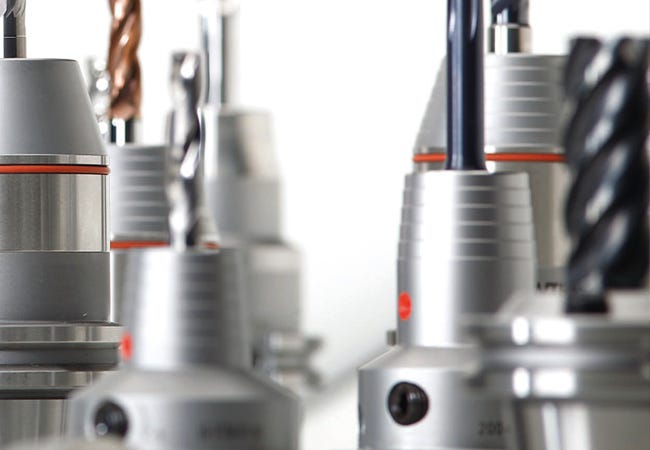 What Speeds and Feeds Should I Use for Milling Hardened Steel?
Now you have the perfect setup for hardened steels, you then need to consider how to use these; this will make or break your success.
A key to tool life and machining quality in milling, and especially high-speed milling of hardened steels, is maintaining constant chip load on the milling tool's cutting edges.
Chip load equals feed rate divided by spindle speed multiplied by number of cutting flutes.
Chip load varies widely; if the load is too low or too high it will cause tools to either wear out too fast, chip or break. Lots of high speed and feed cuts with small cut depths is the best way to go to ensure a quality product.
I Am Having Problems Milling Hardened Material….
If you are having any problems, contact the Cutwel tech team on 01924 869615 to discuss the correct speed and feeds for the material and cutter you're working on.
Some key questions you could also ask yourself to try resolve issues include:
1. Am I using a tool suitable for high hardened steel?
2. Am I cutting wet or dry
3. What tool holder am I using (if ER collet chuck or side lock, you will need to rethink!)
4. Am I running it fast enough (go too slow and the tool will wear quicker)
5. Do I have vibration in my spindle (if yes use a hydraulic chuck with YG-1 X-Power)