What are the Benefits of Machining with Ceramic Turning or Milling Inserts?
When you mention ceramic indexable tooling (ceramic turning or milling inserts), the memory of white ceramic inserts exploding in cut comes flooding back for some engineers. However, with today's technological advancements in the manufacture and application of 'modern' ceramic cutting tools, manufacturing costs can be reduced dramatically when machining difficult materials.
What materials can be machined with modern ceramic inserts?
Heat resistant Nickel based super alloys such as Inconel, Waspaloy and Monel.
Cast Iron.
Hardened Steels > 55 HRc.
Welded / Clad materials such as Inconel 625 and Stellite based materials.
In these material groups ceramic inserts can increase cutting data over conventional carbide by up to 10 times.
Over the past 30 years, new manufacturing techniques and advances in machine tools mean that modern ceramic turning and milling tools can work and give greater cost savings. These also enable material groups such as Inconel, Nickel Alloys and Cast Iron to be machined at much higher cutting data and with increased predictability & stability.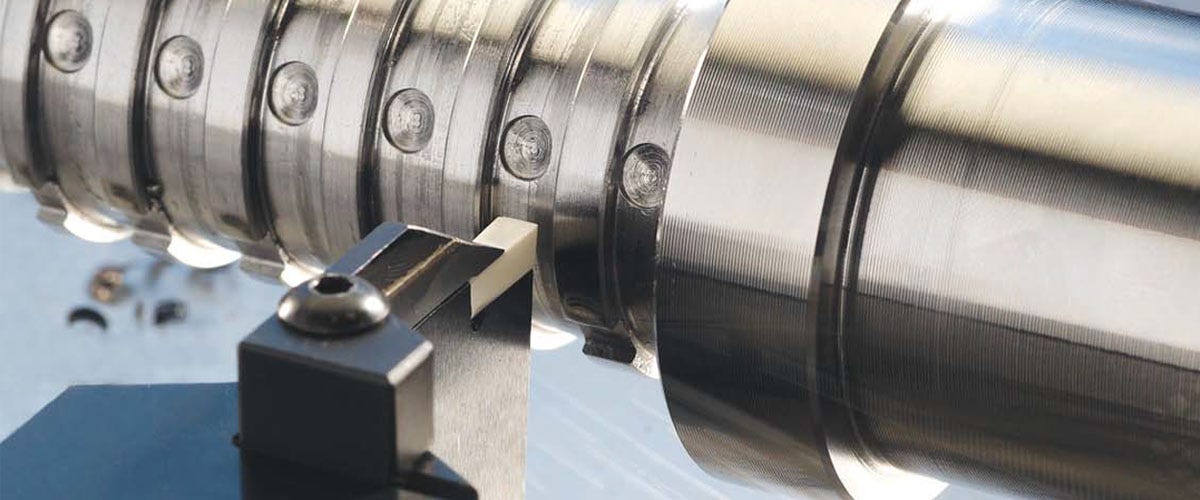 Frequently Asked Questions (FAQs)
Are Ceramic Inserts Expensive Compared to Carbide Inserts?
Ceramic inserts are 2-3 times more expensive compared to carbide. However, due to metal removal rates achieved the cost per edge is less than carbide.
Do You Need a High Power or High Speed Machine Tool?
Modern machine tools have no issues with ceramic inserts when turning, grooving or profiling but when milling, the power pulled needs to be calculated and compensated with cutter diameter.
Can I use Standard Tool Holders for Ceramic Turning Inserts?
In short – NO. When turning, it is recommended to use ceramic specific tool holders. Normal negative carbide tool holders have a top and side rake of -5°, whereas when machining with ceramics it is recommended (on materials under 45 HRc) to use tool holders with -5° top rake & -10° side rake. Also, when milling, due to high RPM, holders balanced in excess of the cut RPM must be used.
How Long Do Ceramic Inserts Last Compared to Carbide Inserts?
On average, when machining HRSA's with ceramics the in-cut time is between 5–8 minutes for turning and 3–5 minutes for milling. The metal removal rates are far greater than carbide with up to a hour cut time.
Grades of ceramic insert available
Al2O3 (commonly known as a white ceramic) is suitable for both roughing and finishing applications for turning & milling cast iron.
Al2O3 + Tic Composite Ceramic (commonly known as black ceramic) is suitable for machining hardened materials up to 65 HRc.
Si3N4 Silicon Nitride inserts have high toughness and are suitable for machining Cast Iron (Generally grey in colour).
Whisker Ceramics are made up of silicon carbide whiskers (SiCw) which dramatically give strength to the ceramic matrix making it ideal for machining Heat Resistant Alloys and allows coolant to be used (Green in colour).
SiAION (Sialon) Ceramics are one of the latest advancements in ceramic insert technology. This has enhanced chemical stability and is ideal for machining Heat Resistant Super Alloys.
When using ceramic cutting tools in applications where carbide is currently used, 'Plug & Play' should not be used. Also, some amount of re programming / application engineering is required. It is imperative that heat is maintained in the chip to enable the material to be displaced rather than cut.
When machining with ceramic inserts, coolant should be used when turning, grooving or profiling with Whisker & Sialon grades. No coolant should be used when milling, turning, grooving or profiling Cast Iron or Hardened Steels.
Although most insert shapes are available within the ceramic grade portfolio, the most commonly used shape is round; being either a round negative, round positive or a round 'V' shaped positive. This is because the round insert gives the strongest geometry available and inevitably will give the longest tool life and predictability, especially in roughing and semi finish operations.
Applications that are suitable for using ceramic inserts
Turning / Boring.
Grooving Face & OD.
Profile Turning.
Milling.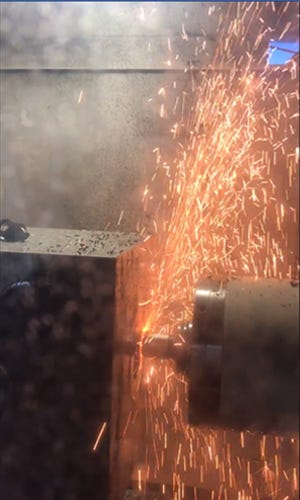 Typical cutting scenario
Turning Inconel 718 at 30-35 HRc – Roughing operation
Ceramic Whisker RNGN 120700 insert V's Carbide CNMG insert
| | | |
| --- | --- | --- |
| | VC m/min | Feed mm/Rev |
| Ceramic RNGN120700 | 300 m/min | 0.2 mm/Rev |
| Carbide CNMG120408 | 40 m/min | 0.15mm / Rev |
For more information on the ceramic grades available at Cutwel and to discuss your applications please give me a call on 07792 901682 or email at w.langford@cutwel.net.
Alternatively, to speak with one of our Internal Technical Team Members, please call 01924 869615.