BORE GAUGES & INTERNAL MICROMETERS
Precision Bore Gauges, Internal 3 Point Bore Micrometers, 2 Point Inside Micrometers & Accessories.

Mechanical 3 Point
Bore Micrometers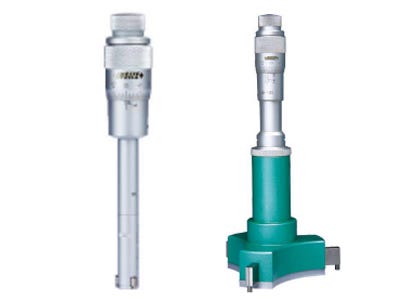 Available as individual micrometers or sets
Digital 3 Point
Bore Micrometers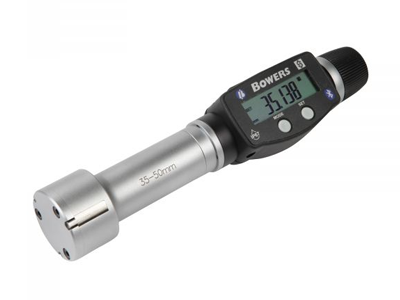 Available as individual micrometers or sets
Digital 3 Point Pistol
Grip Bore Micrometers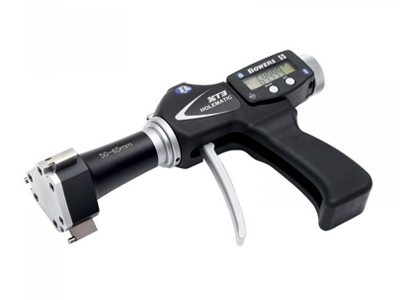 Available as individual micrometers or sets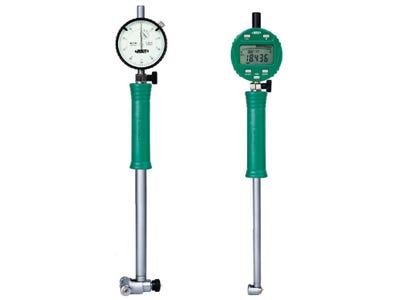 Available as digital or dial indicator read-out
Inside Micrometers & Bore Micrometers
What are Inside / Bore Micrometers and how are they used in the Engineering & Manufacturing industry?
Inside Micrometers and Bore Micrometers are used to measure a specific inner area or internal diameter of a component. Inside / Bore Micrometers are used in engineering & manufacturing settings due to the high precision measurements they offer over alternative tools such as Calipers with inside jaws. They are generally used for applications that require extremely fine measurements therefore are ideal for inspection purposes.
What types of Inside / Bore Micrometers & Gauges are there and what features do they have?
Bore Micrometers
3 point bore micrometers hold an advantage over 2 point bore micrometers because they are quicker at measuring round internal diameters. Bore micrometers have 2 types of measurement display, either analogue (vernier) or digital.
Analogue bore micrometers feature a conventional vernier scale on them (just like outside micrometers) as well as a thimble and ratchet stop for fine and consistent measurements. Digital Bore Micrometers feature an LCD display for high accuracy and high-resolution readings. This type of display can prevent human error when trying to read traditional vernier scales due to poor eyesight.
Bowers have a range of pistol grip bore micrometers (also known pistol grip bore gauges) which operate the same as standard bore micrometers but feature an ergonomic design for quicker and easier measurements.
Analogue Inside Micrometers
These have a similar mechanism to analogue outside micrometers in that they use a thimble, spindle and ratchet stop. The measurements are read from different scales that are placed on the barrel and thimble of the micrometer. As the thimble is rotated, the spindle causes the jaws to open or close. Once the jaws are opened and touching each side of the internal area to be measured, the ratchet stop should then be used to prevent over tightening and achieving an accurate and consistent measurement each time.
Some inside micrometers have a locking device which holds the spindle in place and ensures the measurement is preserved so the micrometer can be removed from the component.
Bore Gauges
Bore gauges are used for measuring the inside diameter of a bore to ensure it has been machined to the correct nominal value or within set limits. These readings are displayed when pairing the bore gauge with a dial or a digital indicator. The anvils on the bore gauge expand until contact is made with the edge of the bore so a reading can be taken.
Do Cutwel offer UKAS Calibration for Outside Micrometers
We offer UKAS calibration for all our Inside and Bore Micrometers. UKAS (United Kingdom Accreditation Service) are the nationally appointed organisation to assess certification, testing, inspection and calibration against agreed standards. UKAS calibrated Inside and Bore Micrometers are supplied with an official testing certificate that confirms the measuring tool has been manufactured to and operates at the high standards required. Please contact our sales team today for any enquiries about purchasing measuring tools with UKAS calibration.
Inside and Bore Micrometers IP Ratings
A selection of our digital Inside and Bore Micrometers are available with two different protection classes from dust or water/coolant:
IP54 – Offers protection against a certain amount of dust levels but is not fully dust proof. It is also protected against splashing water or coolant (but not submerged in it).
IP67 – Fully dust proof and protected against water immersion for a maximum of 30 minutes.
What brands of Inside and Bore Micrometers do we supply?
Cutwel are proud to supply Inside and Bore Micrometers and Gauges from market leading brands such as Bowers, Insize and Mitutoyo. For technical support in selecting the best micrometer for your application please do not hesitate to contact Cutwel on 01924 869 615.
Don't have an account?
Creating an account has many benefits: check out faster, keep more than one address, track orders and more.
Or
Checkout as a Guest
Place your order without creating an account for extra convenience.