Digital, dial & vernier calipers available from Insize and market leaders Mitutoyo. IP67 protection and data output models available, as well as calipers for special applications.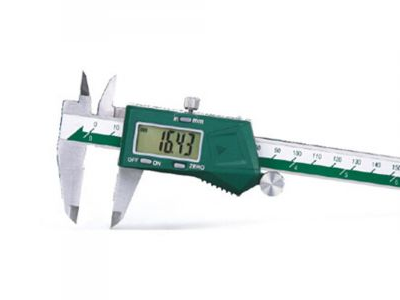 Digital calipers from Insize & Mitutoyo either with or without data output.
IP67 waterproof models also available.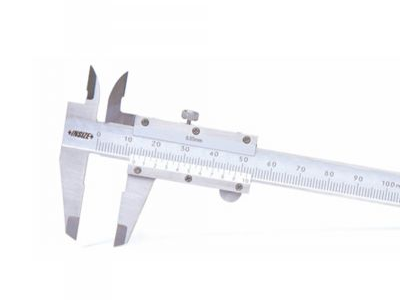 Vernier calipers from Insize and Mitutoyo. Different sizes available including mini and long jaw calipers and for both inside and outside measurements.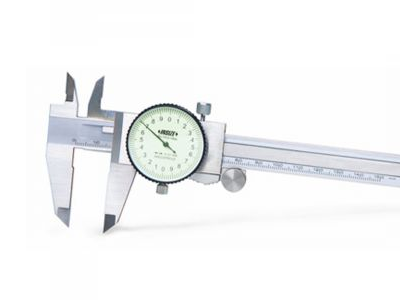 Dial calipers from Insize and Mitutoyo. Models with different graduations available as well as a premium shock resistant model with a strong titanium coating from Mitutoyo.
Spares and accessories for digital and vernier calipers.
Calipers
What is a caliper?
A caliper is a small tool measuring instrument that measures the size of an object (be it the length, width or depth). They can feature outside jaws for external measurements or inside jaws for internal measurements, as well as a blade at the tip of a caliper for depth/thickness measurements.
Calipers can be supplied in several styles including:
Analogue or vernier calipers, which require manual reading of a scale.
Digital calipers, which utilise an LCD display to provide an easy-to-read, higher accuracy measurement.
Dial calipers, which features a circular dial in the centre of the caliper, are much more commonplace than vernier calipers because of easier measurement reading.
Standard calipers (incorrectly referred to as digital verniers) are supplied in either standard widths up to 0-300mm (0-12") and wide range up to 2000mm/78" (2m) width.  Vernier and dial calipers both have scales allowing for measurements to be taken to 1 decimal place. Digital calipers feature LCD displays of the measurement reading and can measure in metric to 2 decimal places (0.01mm) or inches to 0.0005". 
How would you use a caliper?
Always start by ensuring the jaws are clean and the zero datum is set accurately with the jaws closed. To find external measurements, place the item to be measured between the two external jaws and then close to contact the workpiece. The measurement can then be taken. Similarly, internal measurements can be taken using the two internal jaws. Depth measurements are achieved using the blade at the tip of the caliper, with the edge of the caliper body resting at the hole entrance and the blade touching the deepest point of the hole.
Certain calipers can be supplied either with or without thumb rollers for fine measurement and adjustment. ABSOLUTE Mitutoyo calipers require no origin setting after power-on and had no response speed limits on it.
What different types of caliper are there?
Cutwel supply a huge selection of digital calipers covering a wide variety of measuring sizes and applications including:
Calipers with outside measuring jaws (some also offer inside measuring jaws for internal bore measurements).
Standard or wide range / long jaw calipers for larger measurements.
Different jaw types per application: groove widths, gear teeth, brake disks, arc radius, hole centres etc.
Calipers with data output via SPC/USB Cable, wireless via WiFi/Bluetooth (digital models only).
Caliper IP Classes
A selection of our calipers are available with two different protection classes from dust or water/coolant:
IP66 – Fully dust proof and protected against powerful coolant or water jets (from 12.5mm width jet stream) at any angle.
IP67 – Fully dust proof and fully protected against water or coolant immersion up to 1m depth for up to 30 minutes.
Do Cutwel offer UKAS Calibration for calipers?
We offer UKAS calibration for all our Insize & Mitutoyo Digital Calipers. UKAS (United Kingdom Accreditation Service) are the nationally appointed organisation to assess certification, testing, inspection and calibration against agreed standards. UKAS calibrated digital calipers are supplied with an official testing certificate that confirms the measuring tool has been manufactured to and operates at the high standards required. Please contact our sales team today for any enquiries about purchasing any calipers with UKAS calibration.
What are the limitations of calipers?
Often, calipers do not produce the most accurate measurements.
Vernier calipers produce the least accurate measurements due to the user having to read measurements from a scale. This will naturally cause human error and, in some situations, the scale will be extremely hard to read. Furthermore, repeated machine shop wear may cause the scale to wear and become unreadable.
Dial calipers can also cause inaccuracies. The rack and pinion within the dial can become out of proportion, leading to inaccuracies which cannot be easily spotted by the operator.
In situations where absolute accuracy is required, digital micrometers are recommended alongside calipers and slip gauges and CMM. This is because standard digital calipers can cause deviation in measurements based on the operator, whereas micrometers provide more constant and, therefore, accurate measurements to 3 decimal places.
What brands of caliper do we supply? 
The Cutwel range of calipers include best-selling measuring tools from Insize and UK market leaders Mitutoyo. 
Where do I go if I need more information?
The Cutwel range of dial, vernier and digital calipers features Mitutoyo and Insize brands. For technical support in selecting the best digital caliper for your application please do not hesitate to contact Cutwel.
Don't have an account?
Creating an account has many benefits: check out faster, keep more than one address, track orders and more.
Or
Checkout as a Guest
Place your order without creating an account for extra convenience.