Precision digital calipers from Insize & Mitutoyo
Digital Calipers for Measuring Grooves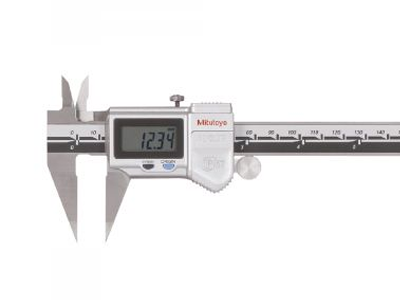 Point, blade, groove, hook & knife edge options
Crimp Height Digital Calipers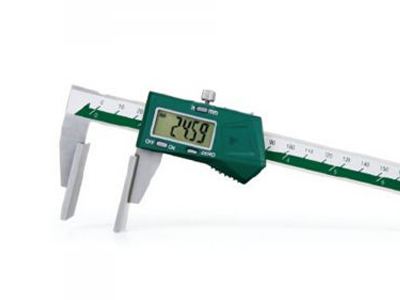 For measuring the crimp height of insulation wire
Digital Calipers for Measuring Hole Centres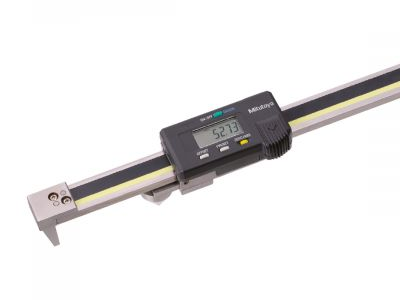 Edge to centre & back-jaw edge to centre calipers
Digital Inside Knife Edge Calipers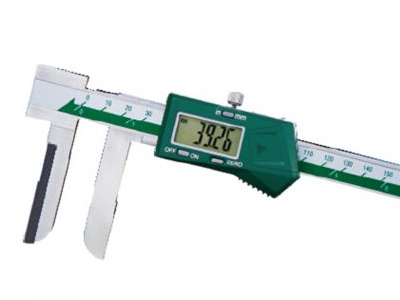 For measuring the diameter of stepped sections
Digital Arc Radius for Measuring Grooves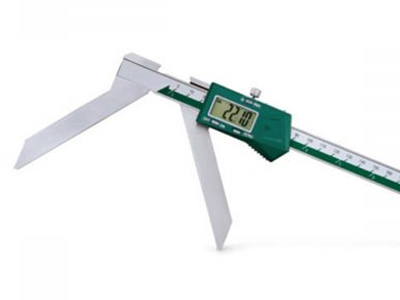 For measuring the radius of an arc less than half round
Digital Calipers
What is a digital caliper?
Digital Calipers utilise an LCD display to provide measurements far more accurate than vernier or dial calipers can produce. Traditional calipers relied on the user's eyesight and field of vision to read the value on a scale, which often led to human error and inaccurate measurements. Digital Calipers alleviate this by providing measurements to 2 decimal places (metric) in an easy-to-read format.
Standard digital calipers (incorrectly referred to as digital verniers) are supplied in either standard widths up to 0-300mm (0-12") and wide range up to 2000mm/78" (2m) width. Digital Calipers have outside measuring jaws for measuring external diameters or areas of a workpiece. Digital calipers feature LCD displays of the measurement reading and can measure in metric to 2 decimal places (0.01mm) or inches to 0.0005".
How would you use a digital caliper?
Always start by ensuring the jaws are clean and the zero datum is set accurately with the jaws closed. To find external measurements, place the item to be measured between the two external jaws and then close to contact the workpiece. The measurement can then be taken. Similarly, internal measurements can be taken using the two internal jaws. Depth measurements are achieved using the blade at the tip of the caliper, with the edge of the caliper body resting at the hole entrance and the blade touching the deepest point of the hole.
Certain digital calipers can be supplied either with or without thumb rollers for fine measurement and adjustment. ABSOLUTE Mitutoyo calipers require no origin setting after power-on and had no response speed limits on it.
What different types of digital caliper are there?
Cutwel supply a huge selection of digital calipers covering a wide variety of measuring sizes and applications including:
Digital calipers with outside measuring jaws (some also offer inside measuring jaws for internal bore measurements).
Standard or wide range / long jaw calipers for larger measurements.
Different jaw types per application: groove widths, gear teeth, brake disks, arc radius, hole centres etc.
Calipers with data output via SPC/USB Cable, wireless via WiFi/Bluetooth.
What features does a digital caliper have?
Many digital calipers that Cutwel supply are available with an ingress rating or IP65 which offers protection from water jets or dust, or in IP67 which offers protection from powerful water jets, submersion in water and dust.
The benefit of digital calipers is the advanced functionality that the digital display unit offers. This includes any of the following functions:
Data output to a PC, tablet or phone (via USB cable, SPC cable or Bluetooth)
Auto power off to save battery life (on/off function).
Auto power on when the slide is moved.
Zero setting: displayed value can be set to zero at any position of the movable jaw.
ABS (absolute measurement): after power is turned on, measurement can be started without zero setting.
Data presetting
Data offsetting (automatically adding thickness of jaws to the measured value).
Switch between metric and inch.
Zero setting
Data hold.
Wireless caliper accuracy starts as high as +/-0.03mm. Caliper battery life can vary depending on models but most offer life of around 1-2 years of normal use.
Digital caliper IP Classes
A selection of our digital calipers are available with two different protection classes from dust or water/coolant:
IP66 – Fully dust proof and protected against powerful coolant or water jets (from 12.5mm width jet stream) at any angle.
IP67 – Fully dust proof and fully protected against water or coolant immersion up to 1m depth for up to 30 minutes.
Do Cutwel offer UKAS Calibration for digital calipers?
We offer UKAS calibration for all our Insize & Mitutoyo Digital Calipers. UKAS (United Kingdom Accreditation Service) are the nationally appointed organisation to assess certification, testing, inspection and calibration against agreed standards. UKAS calibrated digital calipers are supplied with an official testing certificate that confirms the measuring tool has been manufactured to and operates at the high standards required. Please contact our sales team today for any enquiries about purchasing any calipers with UKAS calibration.
What are the limitations of digital calipers?
In situations where absolute accuracy is required, digital micrometers are recommended alongside calipers and slip gauges and CMM. This is because standard digital calipers can cause deviation in measurements based on the operator, whereas micrometers provide more constant and, therefore, accurate measurements to 3 decimal places.
What brands of digital calipers do we supply?
The Cutwel range of digital calipers include best-selling measuring tools from Insize and UK market leaders Mitutoyo.
Where do I go if I need more information?
The Cutwel range of data output, wireless/bluetooth digital calipers features Mitutoyo and Insize brands. For technical support in selecting the best digital caliper for your application please do not hesitate to contact Cutwel.