How to get the best results when drilling and reaming
This blog will include some techniques and methods to achieve the perfect reamed hole and some alternatives to the spot / drill / reaming process.
When drilling and reaming a hole, do you ever think that you've done everything right, only to find that the hole's been reamed too big or the hole is not fully round? Drilling and reaming should be simple, but there are a few common mistakes which can be avoided to ensure excellent and consistent results.
I'm sure most engineers can relate to the above! Below are some key points to consider when drilling and reaming on manual and CNC machines.
Here are some basic steps to achieve a perfectly round h7 tolerance hole:
If you are not using a self-centring drill, use a spot drill to give you the best start.
Make sure you are using a spot drill with the correct angle (e.g. a 90° or 120° degree NC spot drill can be used for a 118° ,120° ,130° & 135° degree drill).
Personally, I would always use a self centering drill, even if it is made from HSS. Before I worked for Cutwel, I used the HSS Cobalt HPD Drill for steels and Multi-1 Powder Metal Drill on stainless and exotics. They do cost a little more than a normal HSS drill but the tool life, accuracy and cycle times were amazing. It was a 'no brainer' for applications where carbide couldn't be used (e.g. on older machines).
Also, make sure to drill the hole with a drill between 0.2mm and 0.5mm smaller than the finished size (e.g. 9.8/9.5mm drill for a 10mm reamed hole).
Speeds and feeds are key for drilling precise holes, so make sure you are following the manufactures cutting data and basing this on the material being machined. Below is an example speed and feed chart for a 9.5mm HSS 5% cobalt drill machining HRc20 steel (9.5mm diameter RPM = 1300) (FEED =280 mm/min).
Finally, when it comes to reaming, I always found on manual machines that half the speed rate and twice the feed rate, along with some Rocol RTD cutting compound, always resulted in a perfectly reamed hole to a H7 standard.
On a CNC machine, I always stuck with the manufacturer's recommended cutting data (for example, see below the cutting data for a 10mm carbide reamer. (RPM = 470) (FEED = 105 mm/min).

Alternative options to achieving a reamed hole
With a good drill and accurate tool holder, your spotting, drilling and reaming applications can be done in one operation. Why use 3 tools, 3 holders, 3 operations and 3 tool changes running at low feed rates when you can achieve a h7 tolerance hole in just 1 go!
You can achieve this using our high-performance carbide YG-1 DREAM DRILS. These drills are self-centring (so no need to use a spot drill) and most drills in this range can drill holes to h7 tolerances. Otherwise, they drill to a m7 tolerance. Within our range of Dream Drills, we have material-specific drill geometries to cover a wide range of materials like Steels, Hardened Steels, Stainless Steels, HRSA's, Cast Iron and Non-Ferrous materials.
For drilling bigger or large quantities of holes, our i-dream drill would be the ideal option. This system uses a high accuracy replaceable carbide insert alongside a highly wear resistant steel alloy body. The holders have the option of 3xD, 5xD and 7xD drill lengths and our inserts cover a variety of materials; will also drill to a h7 tolerance.
Choosing either our solid carbide Dream Drills or indexable i-Dream Drill system will dramatically reduce cycle times and set up time, whilst also freeing up space in your machine to set up more tools.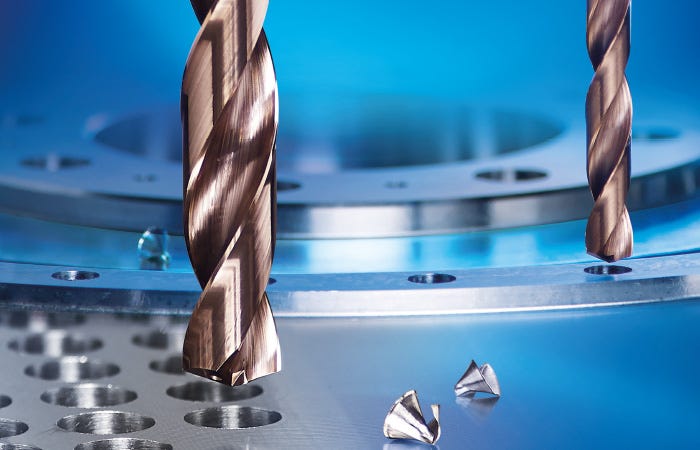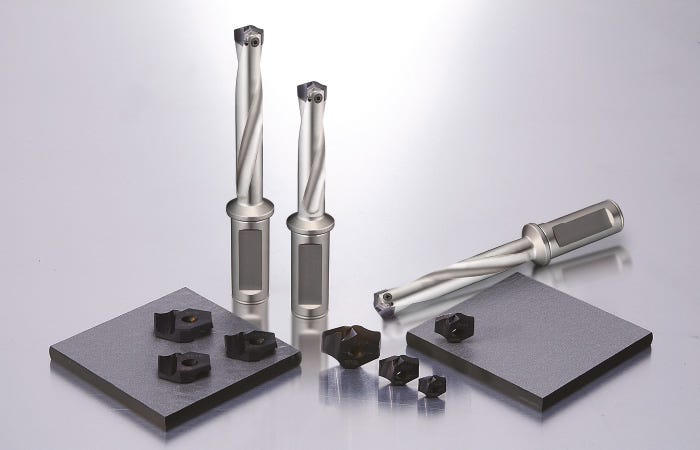 Key things to consider when selecting tooling for drilling and reaming
Tool holding is a vital part to any successful operation. You could have the best drill and work holding in the world but if that drill is running slightly out due to inadequate tool holding then you'll be back at square one.
Most customers I speak to are using standard ER collets with a run out of between 10 and 15 microns (at 3xD tool length). Achieving a h7 reamed hole with a Dream Drill and standard ER collet is like playing roulette: sometimes you will win but the rest of the time you'll lose. Once you start drilling a hole at 5xD depth plus, you have no chance at all. The higher the run-out of the tool holding, the less accurate your hole will be and less parallel it will be.
As a minimum, I would use an ER collet chuck with a <5micron run out high precision ER collet. This will not only give you more accurate results, but you will also get better tool life as the tool will be drilling straighter and with less friction.
Personally, I always got the best results with a hydraulic chuck. Cutwel sell these for less than £100 and they have a very tight 3 microns run out. I can honestly say they are a game changer for drilling!
I have previously used the YG-1 30xD MQL Dream Drills for deep hole drilling, and after taking advice from Cutwel (as previously I was breaking drills every few holes) and changing to a hydraulic chuck, they ran perfectly all day and saved me hundreds of pounds!
One final tip: USE COOLANT! Don't attempt to drill stainless steel or exotics at depths of more than 3xD without using through coolant on the tool. Pecking, slow feed rates and flood coolant are all going to be useless here. You will end up putting more heat into the job and this will cause the workpiece to work harden.

If you don't have through coolant capabilities, we supply coolant feeders for BT & SK back ends to enable coolant to flow to the tool.
However, if this isn't an option then you should go for a high performance HSS drill such as the YG-1 SUS Drill, which has vanadium within the HSS substrate and a special stainless steel geometry.
If you're looking for something with higher performance than HSS or have a machine with vibrations, the Powder Metal Multi-1 Drill is ideal. This drill is also brilliant for Inconel and Titanium drilling. The tortoise will always beat the hare in these sorts of applications!
Always make sure you are using the correct drill and reamer (or carbide insert if using the I-dream drill) along with the correct speeds and feeds for the material you will be machining.
For more information on any of the above tools and holders please visit our website www.cutwel.co.uk or contact our technical team on 01924 869615.