Shrink Fit Chucks vs Hydraulic Chucks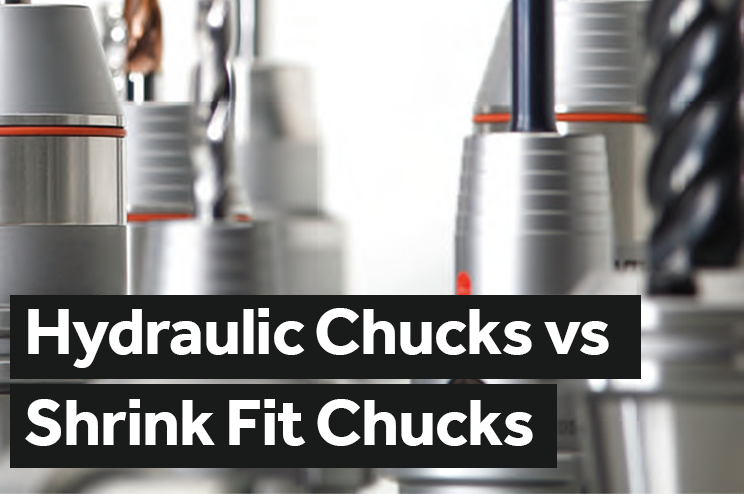 One of the most common tool holding questions we get asked is which system is better – shrink fit chucks or hydraulic chucks. The answer isn't as straightforward as simply saying one is better than the other, as it will depend on your:
Budget.

Application.

Machine/tooling setup.
In this blog we will discuss the pros and cons of both systems and which system you should use for your specific application.

Vibration damping effect.

High radial stiffness.

Flexible clamping range using reducing sleeves or possible to directly clamp the tool in the chuck.

5 different geometries.
Quick setup times.

High run-out accuracy.

Increased tool life.

No reduction in clamping force at high spindle speeds.

Exceptional performance in drilling, reaming and high-speed machining.

Different geometries to suit all applications.

Hardness 52 ±2HRc.

Shrink temperature 100-420°C (Max 500°C).

Coolant pressure maximum 80 bar.

Length adjustment screw.

Gauge lengths up to 200mm.
Ultra-long service life without distortion due to high quality hot work steel.

Suitable for HSS and carbide shanks.

Balanced to 25,000RPM G2.5 (up to 40,000RPM by request).

Low power requirements for induction shrinking.
Sizes & Styles
Both Shrink Fit Chucks and Hydraulic Chucks are supplied in most major tapers including:
Each system has its own geometries and sizes, but both have overlapping types including short length, long length, slim (for narrow gaps) and through coolant. The main benefit to having a variety of geometries is that it gives more versatility for standard and complex machining.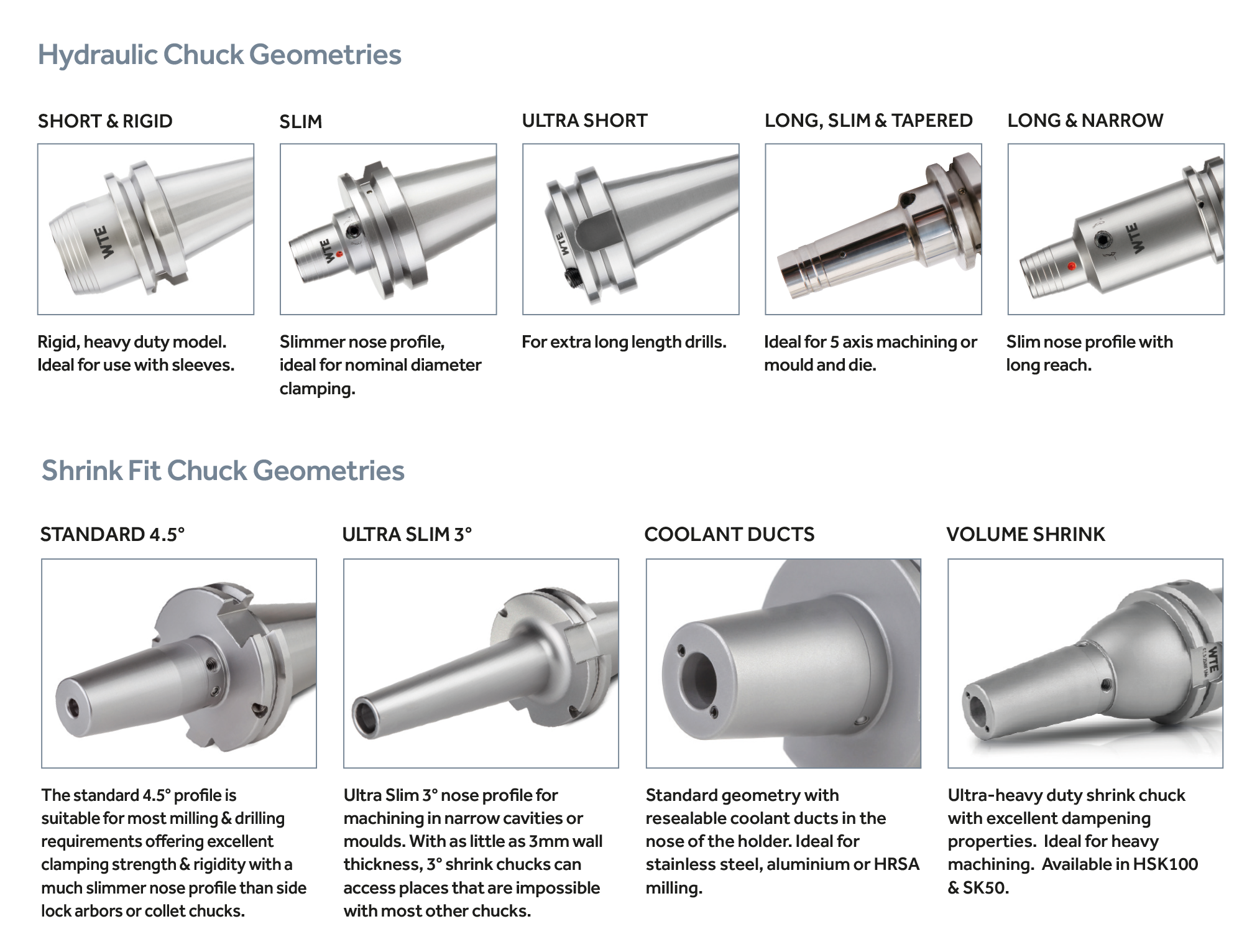 Budget
Hydraulic chucks are great for a more cost-effective option due to there being no expensive start-up cost which is present in the shrink fit system. In order to use shrink fit chucks effectively, the chucks must be used in conjunction with a shrink fit machine to 'shrink' the chuck to the tool. However, once the start-up cost is paid, shrink fit holders are generally less expensive than hydraulic chucks.
Furthermore, the hydraulic chuck range includes hydraulic sleeves used to clamp different sized tools in the same holder. For instance, you can sleeve down a 16mm chuck to clamp 6mm, 8mm, 10mm or 12mm shank tools using a hydraulic sleeve. Hydraulic sleeves support through coolant with grooves located down the side of each sleeve. Ultimately this will reduce the number of chucks you need to purchase, making this a cost-effective method of tool holding.
Shrink fit machines can cost thousands of pounds, which for many small or medium sized firms would be too high an investment. This is where Cutwel's 'Pay Per Shrink' scheme may be able to help. The scheme sees Cutwel rent out a Bilz Shrink Fit Machine to customers for free when a certain number of holders are purchased. Get in touch with Cutwel today by clicking here or call us on 01924 869610 to discuss your requirements.
Performance
Both systems will provide great high performance tool holding with a low level of runout (<3 micron). Some characteristics of each system gives it an edge over the other, including:
Hydraulic chucks utilise oil in the membrane to provide a dampening effect which will absorb some vibration and breaking the harmonics. This allows you to push your tools harder with an improved surface finish.
In most cases, due to the heat shrinking process, shrink fit chucks provide a stronger and more reliable method of gripping a tool.
Hydraulic chucks offer quicker tool changing as shrink chucks will need to be heated again to unclamp the tool from the holder.
Conclusions
Overall, both systems offer a great high performance tool holding solution. Hydraulic chucks will offer you the more cost-effective option without any initial set-up costs, with a wide range of sizes and the ability to sleeve down holders to fit smaller sized tools. They are most useful in situations where quick tool changes are required or vibration may be an issue.
Shrink fit chucks will offer long-term cost savings over hydraulic chucks after the initial machine cost is absorbed. Generally, heat shrinking will offer higher levels of reliability and clamping strength compared with hydraulic chucks. Also, their high-quality steel body gives ultra-long service life without distortion. Shrink chucks are best used in situations where the same cutters are used repeatedly and where tool life and the highest performance are needed.