THE FLEXIBILITY OF AN ER COLLET CHUCK WITH IMPROVED RIGIDITY, PREICISION AND PERFORMANCE

THE 8 DEGREE COLLET TAPER ANGLE ELIMINATES DEFLECTION AND VIBRATION

IDEAL FOR 5 AXIS MACHINING DUE TO THE MUCH SLIMMER NUT DESIGN
CUTWEL SLIM COLLET CHUCKS
THE SAME FLEXIBILITY AS TRADITIONAL ER COLLET CHUCKS BUT WITH JUST 5 MICRONS OR LESS RUN-OUT*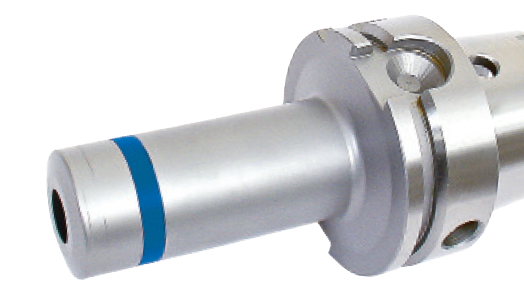 BENEFITS OF LOWER RUN-OUT

The popular misconception of tool run-out is that it is purely about machining accuracy. Many customers believe they do not need tools with low run-out as they are not machining ultra-high accuracy workpieces. However toolholders with lower run-out vastly increase tool life, improve surface finish, prevent tool chipping and shorten cycle times by reducing vibration, especially in long length or smaller diameter tools.
AN INVESTMENT IN HIGHER ACCURACY TOOL HOLDERS WILL GIVE AN INCREASED RETURN ON INVESTMENT THROUGH LONGER TOOL LIFE, REDUCED SCRAP & FASTER MACHINING RATES
*Only when used with high precision (5 micron) ER collets.
Ultra precision 2 micron ER collets are also available.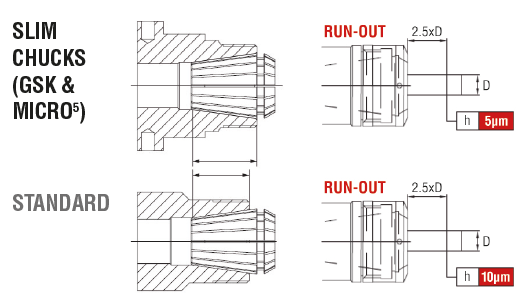 CUTWEL SLIM COLLET CHUCKS have a specially designed nut so the collet sits deeper in the chuck body and reduces the chance of deflection resulting in:
Increased rigidity and clamping forces
Improved grip
Higher precision and system concentricity
IMPROVED CONCENTRICITY & DEFLECTION
The 8° taper means the collet sits deeper in the body of the chuck which results in a number of benefits over standard ER collets.
POWERFUL CLAMPING WITH LESS EFFORT Double the clamping force can be produced than is possible with standard ER collet chucks while using a lower tightening torque.

HIGHER ACCURACY because clamping force is distributed equally at the circumference of the collet, tool deflection is greatly reduced, resulting in more than double the accuracy and rigidity of standard ER collets with run-out of less than 5µm.
Slim Chucks For High Speed & High Precision Machining Without Deflection

Dine GSK and Cutwel HP3 Slim Collet chucks offer the flexibility of an ER collet chuck with the rigidity, precision and performance that is associated with high performance tool holders such as hydraulic or shrink fit chucks.

Slim chucks are designed with an 8 degree collet taper angle (vs 16 degree for ER collets). This eliminates deflection and vibration commonly associated with ER collet chucks. The 8 degree taper also enables a much slimmer nut design compared to an ER collet, ideal for 5 axis machining.