BENZ Spindle Speeders
Maximum speeds up to 40,000RPM with a 1:5 ratio and jacket cooling as
standard for internal coolant up to 100 bar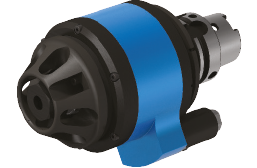 For Increased Spindle Speeds up to 40,000RPM!
Standard Model (SL & SLI)
Manual or automatic tool change

Available with external cooling jacket (SL) or through coolant 80 bar (SLI)

Suitable for high precision machining

For high speed drilling and light milling of soft materials

1:5 ratio

Max RPM 40,000 (with coolant) or 18,000 (without coolant)

Max duty 10 minutes running, 10 minutes cooling
Coaxial Duty Model (S)
Manual or automatic tool change

Through coolant 100 bar

Improved surface finish compared to standard model

For high speed drilling and increased milling capabilities (suitable for use with ceramic end mills)

1:4,2 ratio

Max RPM 40,000

Can be run nearly continuously depending on operation
BENZ Spindle Speeders are designed for the most demanding machining environments where the tool is a critical part of the production process.
All standard Benz Spindle Speeders have a 1:5 ratio and maximum speed of 40,000RPM and are equipped with jacket cooling as standard, which supports an internal coolant supply of up to 100 bar. Special bearings and sealing technologies ensure low heat generation and guarantees dimensional accuracy for longer machining cycles. The high running smoothness and concentricity, in combination with maximum spindle rigidity and low heat generation, makes any spindle suitable for a wide range of applications for drilling and light milling operations.
Instant Technical Support
Our in-house technical support team are on hand to deal with simple to complex engineering problems and enquiries.
Each member brings with them their own experience and know-how to add to our growing pool of technical knowledge. That's why our services are known for being the best in the business!
Our technical line is open from 8am to 5:45pm (4.30 Fridays)